Recruiting & Exhibition Fair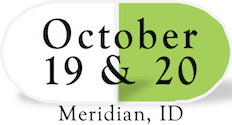 Join us in Meridian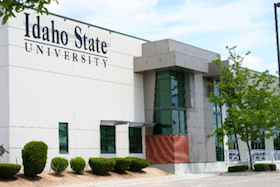 The Idaho State University College of Pharmacy and the Professional Pharmacy Student Alliance will host the Pharmacy Recruiting Fair on October 19 & 20. The fair will again be held at our Meridian, ID location, which provides easy access to the Boise airport and lodging.
The Idaho State University College of Pharmacy Recruiting Fair is held each fall, providing students and employers an opportunity to network and form career relationships as colleagues in the practice of pharmacy.
Skip to: Registration |  Company Exhibit |   Interview Spaces |  Sponsorship |   Advertising  |  Meals |  Parking |  Shipping  |  Travel & Lodging
Registration
Register before August 1 and save 10%!
During online registration you will register your company and select your interview preferences, and have the option to sponsor an event or advertise in our program.
[Register Now]
---
Tentative Schedule of Events for Recruiters
Recruiter Schedule
Thursday, October 19th
8:00am - 9:00am
Recruiter Check-In & Exhibition Set-up
9:00am - 10:00am
Company Exhibition for P4 Students
10:00am - 11:30am
Company Exhibition for All Students
12:00pm - 1:00pm
Lunch with Dean Paul Cady
1:15pm - 2:45pm
Student Interviews
2:45pm - 3:00pm
Refreshment Break
3:00pm - 5:00pm
Student Interviews
6:00pm - 8:00pm
(optional)
Family Night at Dave and Buster's
All students, faculty, staff and recruiters are invited.
546 N. Milwaukee St.
Non-alcoholic beverages & dessert will be served.
Friday, October 20th
9:00am - 12:00pm
Student Interviews
12:00pm - 1:00pm
Lunch provided
1:00pm - 3:00pm
Student Interviews
Recruiter Check-In
Registration packets and interview schedules may be picked up at the company Check-In desk located in the Meridian Health Science Center Auditorium. Use the Training Center entrance and follow the exhibit signs. Volunteers will be available Thursday morning to assist you in bringing exhibit equipment into the Company Exhibition.
Company Exhibit, Auditorium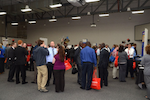 Company representatives are given exhibit space where students can learn more about your company. The first hour of the exhibit is for fourth year students only, then it becomes open to all students.
The cost of the exhibit is $300.00 which includes a six foot table with black table cloth in the exhibit area with other recruiters. Power equipment is available upon request (See Company Registration).
Interview Space, COP Offices
The College provides an opportunity for recruiters to meet individually with students. Nearly 75 fourth-year professional students completing advanced practice experiences return to campus each year for the Pharmacy Fair. In addition, approximately 150 first, second or third year professional students may schedule interviews with recruiters.

The cost of the first interview space is $450.00 which includes space for Thursday afternoon, Friday morning and afternoon. Additional interview spaces are available at a rate of $150.00 each. Each space is given one student interview schedule. Student interviews are scheduled for 25 minutes, and allow a 5 minute break between interviews.
Sponsorship Opportunities
Sponsorships are a great way to make your company stand out from the crowd. Sponsors will be recognized in our schedule of events, and on our website as well as during the sponsored event. Sign up to sponsor an event when you register your company.
Family Night Dinner Sponsorship $1000
Friday Company Presentation & Lunch $1000
Raffle Prizes Any value
Advertising Opportunities
The Guide to Events Program will give you the opportunity to advertise your company to pharmacy students at ISU. You can advertise in the program regardless of whether or not you can attend the fair.
Half Page Ad $50
Full Page Ad $100
Meals
Recruiters are invited to attend any of the events during the fair. A light continental breakfast will be offered on Thursday, and lunch will be provided for recruiters on Thursday and Friday. If recruiters wish to attend, there is also an optional Family Night Social with a casual dinner (often pizza or bbq) for students and their families.
Parking
Parking passes are required and will be provided free of charge at check-in. Students will be available to direct you to the parking area.
Shipping Services
Please arrange to have your shipments returned with a prepaid label. FedEx is our preferred shipper, but you may choose another company as long as you are able to schedule a pick up.
FedEx Shipping address
ISU College of Pharmacy
1311 E Central Drive
Meridian, ID 83642
(208) 373-1821
General Travel and Lodging Information
Idaho State University-Meridian
1311 E. Central Drive
Meridian, ID 83642
(208) 373-1700